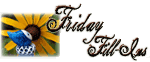 1. If I could be a fly on the wall I would
follow my husband to work and watch him in his tool belt all day!
2. Jealousy is the
number 1 reason I could go postal, when it comes to my husband
.
3. When I see a shooting star my wish would be that a
billionaire would take pity on our family and make us rich .
4. I'd rather be
Ramon noodle poor in love
than
rich,
unloved & miserable
any day!
5. Certain songs when I hear them make me
feel 18 and wild again!
6. If time were in a bottle
I'd buy it buy the truckloads.
7. And as for the weekend, tonight I'm looking forward to
Not cooking!
, tomorrow my plans include
preparing for bible school & pulling my hair out
and Sunday, I want to
leave for a relaxing getaway but I'll be at church instead!


Participate in Friday Fill-Ins!